Camping is a great way to make the most of summer. Although you won't get room service out in the woods, low-cost trips to the great outdoors allow you to build your savings and develop self-reliance at the same time.
If you're a camping enthusiast, you know all about the tips and tricks that can make your stay truly memorable. However, if you're a novice, you may have a few concerns. As much as you want to spend time with mother nature, you're not exactly sure how to avoid bugs, bears, and other natural hazards.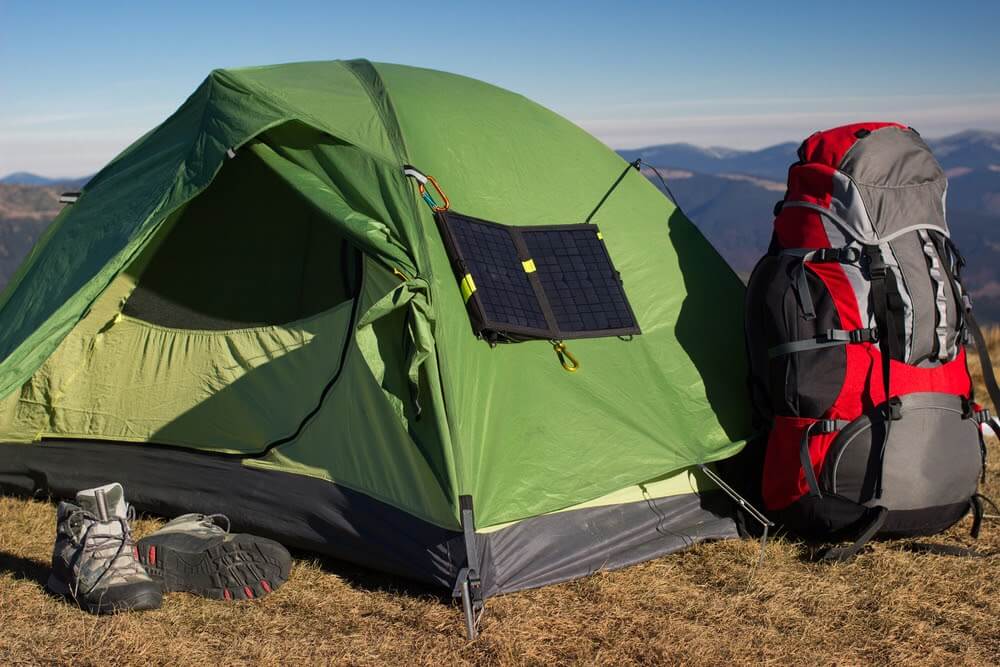 #1 A Tent
Maybe this should go without saying, but you need somewhere to sleep! More than that, you need somewhere reliable to sleep.
We've all seen a thousand sitcoms where characters lose their cool while assembling a tent. Want to make sure your shelter is assembled before dark? Try out your tent in your living room before you drive off into the wilderness.
#2 Sleeping Bags
Out in nature, you won't have access to heating or AC.
Plan accordingly.
Sleeping bags come in different sizes and shapes, and with different levels of insulation. Consider whether you need:
A lightweight summer sleeping bag
A cocoon-shaped winter bagto help you keep body warmth in
An all-season bag if the temperature might fluctuate
A full-sized bag to accommodate a second sleeper
#3 Stocked Camping Cooler and Dry Ingredients
Now you know where you're going to sleep. What will you eat?
It doesn't have to be all canned soup and veggie jerky. Instead, bring a couple of camping coolers filled with the essentials for healthy meals:
Veggies you can eat raw (cucumbers, peppers, tomatoes, etc.)
Quick-cooking veggies (squash and corn)
Plenty of water
Ice packs
Eggs
To make sure your meals are well-rounded, consider bringing quick-cooking grains like polenta and oatmeal. Bread is another great alternative. And of course, no camping trip is complete without some hot dogs and s'mores!
Don't forget salt and black pepper to add a little seasoning to your meals.
#4 Flashlights and Lanterns
Away from the city, it gets dark outside. Really dark. Even if you plan to surround your beach campsite in tiki torches, it's great to have a backup, portable light source—especially if you need to head away from the group for a little privacy.
Don't forget to pack spare batteries!
#5 Camping Stove
You may have grand ambitions of starting a fire. However, a little bit of rainfall might be enough to squash your dreams for the entirety of your trip. Make sure you're prepared with a camping stove.
#6 First Aid Kit
While there may be some natural painkillers near your camping site, it's better to prepare yourself for minor aches and pains. Pack:
Advil and Tylenol
Band-Aids
Rubbing alcohol
Anti-nausea medicine
Cortisone for bug bites
Aloe for burns
#7 Bug Repellant
Avoid ticks, flies, and mosquitoes by preparing ahead.
Spray exposed skin with a bug repellent of your choice. Some people swear by natural solutions like catnip essential oil, while others need the chemical stuff to feel safe.
#8 Toiletries
Let's face it—you might get a little smelly while camping.
If you're lucky, there are showers somewhere in the vicinity of your campsite. The next best thing are ponds and streams. Either way, it's great to have a few basic necessities so that you can feel somewhat clean.
Pack:
A toothbrush and toothpaste
Floss
Face wash
Hand sanitizer
Deodorant
Bar soap
Take any opportunity you can to lather up!
#9 Toilet Paper
Need we say more? Place a spare role in your hiking backpack if you're leaving the campsite.
#10 Rope
Rope comes in handy for a variety of reasons. You can use your rope to:
Tie your food up in a tree to make it less accessible to bears
Make a makeshift clothesline if you have an opportunity to wash your undies
Throw a rescue line to a friend who's caught in a river current
Create a tent on the go with a piece of plastic tarp
And the list goes on!
Embrace Low-Amenity Living
The reality is that you won't have all the amenities of modern life while you're away from civilization. That's the beauty of camping! Say goodbye to your cell phone notifications and email inbox while you're out in the wilderness. You may miss a few modern conveniences, but as you develop the skills to survive on your own, you'll feel proud, refreshed, and rejuvenated.
Let the chorus of crickets lull you to sleep and the sunrise wake you up in the morning. Chances are you'll return from your trip with a fresh perspective.