How to Start Tyre Granules Business in Nigeria
Hi Mr Apeiron, A client based in Indonesia wants to bring in Tyre granules into Nigeria for Distribution,Kindly advise on steps to be taken in getting buyers and distributors,and also if you know any company that uses tyre granules for production.
Thank you for your response.
New Member
Asked on March 9, 2018 in
Business.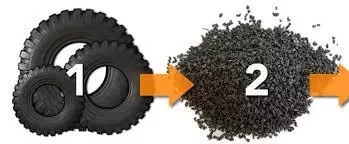 Tyre granules are produced from waste truck tyres, recycled by means of ambient grinding. The process is designed to remove all steel, fibre and dust to produce a clean high quality rubber granulate
This product can be very useful in various ways. But the sad truth is that Nigerians don't pay attention or value it. The most thing they do with tyre in this part of the world is burn them or use them.
I don't know of any company or anyone that might want to buy but i will keep digging and as soon as i get any contact, i will drop it below.
You can click here to pitch a recycling company around, maybe they might be interested.
You could call an attention of people to it, Its useful and maybe you could create a revolution.